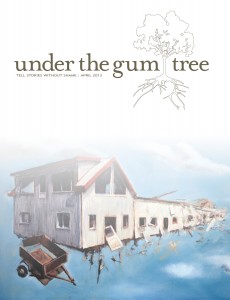 This time last year I wrote about going to the Association of Writers and Writing Programs annual conference (AWP) and feeling insignificant. At the time, Under the Gum Tree had published just two issues. This year, I attended the conference in Boston with a presence at the book fair and six issues behind me—definitely a huge difference.
While manning our table at the book fair, the question I got asked most often was, "Tell stories without shame—what does that mean?" So I spent a lot of time explaining that it means that we look for stories where the authors are unashamed to tell their story—whatever that story is. Maybe you want to write about your life growing up as a trust-fund kid who never wanted for anything. Most of the world would not call that upbringing "shameful"; if anything the rest of the world might call it a "privileged" experience. And therein lies the rub—the majority of the world may label your experience in a pseudo-judgmental way, yet you are not ashamed to share that story. Instead, you own that experience as an integral piece of what makes you who you are today.
One of the panels I went to while at AWP was called "Memoir Beyond the Self," and a question got thrown around amongst the panelists. The question was: Is nonfiction successful because it isn't "good enough" to be fiction? It implies that a story may not work as fiction but as soon as you call it nonfiction and attach the label of truth, then all of a sudden it's successful. Why does that T-word matter so much? Why are we so drawn to true stories? For me, it's less about the story itself and more about the bravery of the person telling it. It takes a lot of guts to write a story and then send it out into the world saying, "Here—this is part of me."
There's always a level of debate between fiction and nonfiction: Which is better? Which is more honest? Which is more vulnerable? One fiction writer I talked with said that his fiction is more vulnerable than his nonfiction—he's able to be more honest on the page as his characters. And I contend that nonfiction is so much more powerful because there is no protection for the author—it is not the fictionalized character being vulnerable, it is the author him or herself. There is no hiding behind a fictionalized character; there is no shame.
That is why here at Under the Gum Tree we exclusively publish creative nonfiction. That is why the editors and I continually ask ourselves, what is the take-away? What did the author learn from this experience that a reader might also take away as a result of reading this author's reflective account?
The bottom line is that creative nonfiction attempts to find truth in the human experience. Sure, fiction also attempts to do the same, but it does so behind a curtain. It's the Wizard of Oz pretending to be something he's not. Here at Under the Gum Tree we aim to explore that truth in the light of day minus the curtain—it's the raw authenticity of humanity that we want to see.
Does this answer the question, "Tell stories without shame—what does that mean?" It is not a question that I can fully answer on my own. That is why I publish a magazine and collect stories from others who attempt to answer the same question. Perhaps collectively we can come to terms with being unashamed to share our stories.
Here's to telling stories boldly, bravely, honestly and, of course, without shame,
Janna Marlies Maron
Editor & Publisher
Note: this is my editor's letter from Issue 7 of Under the Gum Tree. Read my other editor's letters here.