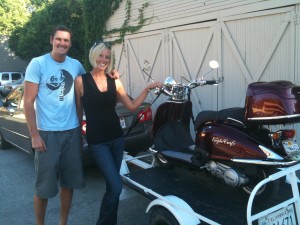 Well friends, the time has come that we say farewell to Scottie. He was a good little scooter for the two years that I had him, and he was definitely my trusty sidekick.
Sadly, he had been having some health problems lately, and I hadn't ridden him since the last episode. I would start him up at least once a week, to make sure he still had life. But I was too nervous to take him anywhere. And being the poor girl that I am, I just didn't have the funds to make him well again. He sat parked in front of my house on I Street, neglected and collecting parking tickets. Alas. I had to sell him.
Craigslist ad:
ZIP AROUND TOWN ON 150cc SCOOTER
This 2008 Eagle Craft Verano scooter is perfect for zipping around town. 150cc engine has gotten up to 60mph with two people riding. Sadly, he's not running and I don't have the money to fix him. It's a shame for such a cute thing to sit in my backyard getting no use. He just needs some TLC.
Asking $695, but please make offer. Willing to negotiate. Serious inquiries only.
Available all weekend, except Saturday. Email or call Janna, 916-837-1646.
***
Several people called, wanting to know what was wrong with sick Scottie Scooterson. And I explained as best I could that it sounded like a fuel injection or fuel filter problem. The engine would start, but not turn over. Sigh. Just talking about it made me sad.
Then Chris called, asking similar questions. He said he's been riding and fixing up his own dirt bikes for something like 20 years. His wife really likes the look of Scottie.
"Oh," I thought. "This is Scottie's new family."
Say hello to Chris and MJ.
P.S. MJ tells me that Scottie will be getting a sex change.