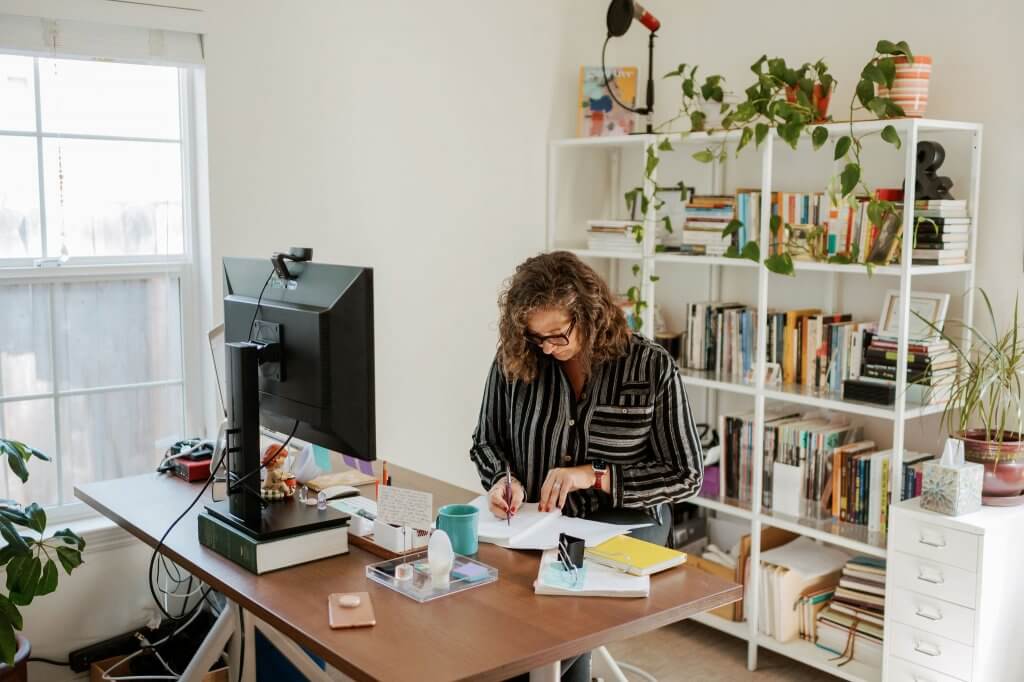 ---
Welcome
---
Let me tell you a little bit about me and this website. Everything I do boils down to one main passion: authentic and personal storytelling. I share my personal story to encourage and inspire others, and I create opportunities for others to do the same.
Some of the stories I tell are about my personal journey as a creative professional, as a 40-something-year-old learning to manage depression and multiple sclerosis, as a passionate urbanite living in the North Oak Park neighborhood of Sacramento, and as a married woman navigating the ever-changing challenges of homeownership, self-employment (for one or both of us, depending on the year), and Airbnb hosting.
My core message is that we can find health, wellness, and happiness in life when we share our personal story with others, because it is a process that helps us come to terms with what makes us who we are. It also allows us to realize that we are not alone. When we risk and share our story, inevitably there is one person who resonates and responds with, "me too."
If you are looking for someone to share a "me too" moment with, I would love to hear from you. I post most regularly on Instagram as @jannamarlies and @undergumtree. To be sure that you won't miss anything, sign up for updates by entering your email address below (you'll get my 30 Days of Write Prompts as a free download when you do).
---
The Red Boots & Me
---
I used to be afraid to wear the red boots. Actually, I used to be afraid to do a lot of things: walk the one mile to high school alone, try out for basketball, get my own apartment and live without roommates. I also used to say "no" to avoid feeling uncomfortable. If I didn't know anyone at the party, I'd send my regrets. If I couldn't find a friend to go with me to yoga, I simply didn't go—even when learning yoga was a New Year's resolution. And I certainly never wore the red boots.
Sound crazy or familiar? If it sounds familiar, then you're in good company. All of the work that I do—writing, editing, publishing—is in pursuit of helping others to intentionally look for ways to be true to yourself, living the life you were meant to live instead of the one that someone else prescribes for you. Often those prescribed expectations—of parents, teachers, coaches, pastors—keep us from being our true self because we're so afraid of what might happen otherwise.
I share my story because now I wear the red boots. And I want to help others do the same.
To keep up with me and my red boots, sign up for my email newsletter.
---
Work With Me
---
One of my favorite things to do is listen to how writers and storytellers are struggling with their creative work and to help them project plan, or brainstorm ideas, or strategize how to get things done—basically, I help people get unstuck and take action by creating a plan and holding them accountable to that plan. I find solutions to the mental barriers people have around their creative work. There is nothing more satisfying to me than supporting a story that needs to be told.
This work takes many shapes.
Writing workshops and retreats
Strategy sessions to brainstorm the best approach for your work or project
Project plans with milestones to help you hit your deadline and launch your project
Manuscript review and editing services to get your book ready for an agent, publisher, or for self-publishing
Self-publishing consulting tailored to your goals for getting your book into the hands of your readers
You can think of my consulting and strategy offerings like coaching sessions; they are completely customized and tailored to your needs. Currently, I offer coaching and editing services for women authors working on nonfiction books . Click here for more information on working with me.
---
Start Here
---
These posts are some of my best and will give you a better look at me and my philosophy for creativity, wellness, and how the two are intertwined.
---
You may have heard one of these interviews with me:
---
---
Or, you may have seen me featured in the media…
---
---
My Story
---
A self-proclaimed "woman in progress," I am most passionate about creativity and the power of the written word. I have been writing for as long as I can remember. Some of my earliest memories include sitting on the front lawn of my childhood home, leaning against the trunk of a huge tree, knees bent to prop up my spiral-bound notebook, pencil in hand.
I'm originally from the San Francisco Bay Area (San Ramon is where I went to high school) and I ended up in Sacramento after attending college at a strict, private Christian school in Florida. After college, I was lucky enough to get a job at a weekly community newspaper and I have been working in publishing ever since. Initially, I didn't choose Sacramento as my home, but the longer I stayed the more I grew to love it. And eventually I did choose it—instead of moving in search of the things I was looking for, I choose to stay and contribute to creating the city I wanted to live in.
If I had to sum up what I'm all about in two words they would be: authentic storytelling. That's the core of why I write, why I publish stories and why I teach others to write their story. I tell stories that challenge and inspire people to pursue the potential of their creativity; I nurture creativity by making space for exploring and showcasing creativity.
I hold an MA in Creative Writing and my professional experience encompasses time as a staff writer for a weekly community newspaper; time as the managing editor for a company publishing multiple monthly, bi-annual, and quarterly community lifestyle magazines; time as an adjunct professor of English at multiple college campuses; time as an independent freelance writer/editor/publisher, and time as the editorial director for a creative agency.
I am the former content director for the popular online brand SmartPassiveIncome.com, where I led a team of creative professionals to plan and create content in a myriad of forms: blog posts, podcasts, email newsletters, ebooks, pdf downloads, print books, and more.
As of 2020 I am now in business for myself as a coach and editor for nonfiction writers, and my current focus is helping women authors find their voice and finish their book, which I do through my private coaching program called Nonfiction Bootcamp.
All of work that I do revolves around using writing, creativity, and storytelling to help others find healing in whatever form that may take. I host a podcast about creative nonfiction called More to the Story that features writers telling their stories. I publish a quarterly literary arts journal called Under the Gum Tree. I'm constantly looking for ways to support writers and storytellers of any medium interested in sharing their true personal story.
All of that, and I still somehow find time to pursue my own writing, which appears in all different forms: blog posts, weekly emails, ebooks, editor's letters in Under the Gum Tree, feedback for my students and clients, even craigslist ads and Airbnb listings. You you can find out more about working with me here.
---
The Health Stuff
---
Yes, I write and share a lot about health, wellness, nutrition, and food. But that is not the focus of my work. I share about those things because it is part of my story. The nutshell version of my health story is: I went through a pretty low point in 2010. I was suffering from severe depression, filed for bankruptcy, and was laid off from my job. In February 2011 I experienced an episode of optic neuritis, which ultimately lead to an MS diagnosis in June 2012. With the support of my husband, I decided against drug therapy treatment and have been managing my health through diet and supplementation since November 2012. Click here for the posts I've written about my health journey.
---
Stay in Touch
---
I hope my story encourages and inspires you to share your story with someone. Even if just one person benefits from my story I feel that I have done my job. If that person is you, I would love to hear from you. You can also stay in touch by getting regular updates from me: