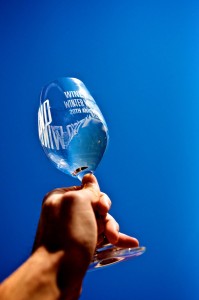 I have a happy song. I wrote about it in a recent post on how I'm conditioning myself out of depression.
The song is "Good Life" by OneRepublic. My husband hates this song.
"For a song to make me happy, it has to be inspiring," he said. "Like 'Tonight, Tonight' by Smashing Pumpkins."
"OK, but being inspired is different than being happy in the moment. It's big-picture dreaming compared to appreciating the small things in life."
I was trying to help him understand why the lyrics of "Good Life" are so uplifting for me. Sometimes I need to be reminded, "what's there to complain about." Sometimes I need to hear the words that help me remember that "we have so much to feel good about." Sometimes I need to be told, "when you're happy like a fool, let it take you over."
The words are specifically and directly the opposite of a depression that tells me, "there's no reason to be happy; there's nothing good in life."
We got into a bit of a debate about what makes a happy song. I think he hoped I'd find a song that he likes so that he wouldn't be annoyed every time I play the happy song.
"I'm sorry, but lyrics like 'crucify the insincere tonight' just doesn't have the same affect," I said. "But it's OK if that song works for you, as long as it's also OK that 'Good Life' does work for me. I picked it because of the lyrics, but also because it was already associated with a happy memory."
Two years ago we went on the Winter Wine Road with a group of friends. The trip was in the middle of a bad bout with depression. We spent two days visiting wineries in Sonoma County, and at one stop I walked back to our rental van arm-in-arm with one of my girlfriends who came with us. The simplicity of savoring a wine tasting, strolling through beautiful wine country, linked to someone who loves me hit me all at once, and I said out loud, "This reminds me of that OneRepublic song, 'Good Life.' " My friend agreed, and we played the song at full volume for everyone to hear as we drove to the next winery.
In that moment, I tasted sweet wine lingering on my tongue; I saw abundant vines cascading over the hills; I smelled crisp and fresh air; I heard friends talking and laughing; I felt loved and connected. The moment embodied so much goodness that I couldn't deny it. This happened before I implemented the experiment of conditioning my mood, and ever since then the song reminds me of that wonderful moment of realization and gratitude. So when I needed a happy song, I didn't think twice about choosing "Good Life."
I've been getting a lot of interest in seeing a happy song playlist. I have my own, but would love to add some from readers. Leave your happy song in the comments and I'll publish a playlist soon!
Photo by my friend Robert Coombs.
Read more about what I've learned along the way. Sign up for my email list & get a free copy of my ebook, Bold is Beautiful.