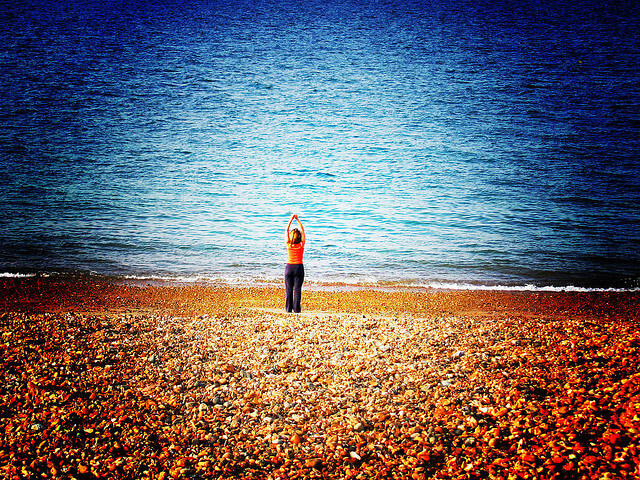 After yoga this morning my teacher told me that I look strong. She knows that I'm not taking drugs and that I'm trying to treat it naturally.
It's not been an easy 12 weeks. I started the diet on the Monday after Thanksgiving and, with the exception of four cheat days, have had no coffee, no wine, no gluten, no dairy, no sugar, nothing fermented, nothing preserved. (Some readers have asked that I post the diet guidelines, which I've posted here.) It feels sometimes like I am taking a walk in a strange city with a blind fold on: completely lost and wandering in circles. Any minute I could run right into the side of a building, or fall into a gutter, or cross a street and get hit by a car.
Or maybe a better metaphor would be that it feels like I've been treading water for hours and can barely keep my head above the surface. I have to rest my legs and arms because there is no energy left to keep them moving. But if I do, as soon as I do, I will sink. I will drown. Right now it's barely my nose that breaks the surface and I gasp for each breath. But I keep breathing. It hurts, but I keep treading water.
These are the moments when you think you aren't strong enough. You aren't doing enough to keep yourself alive. But you're still alive, and that's what matters. Anyone who comes along and sees that you've kept yourself alive all this time, no matter how you've done it, will find inspiration in your stamina.
Inspiration. What is it? Where does it come from? How do I get it?
Isn't inspiration something that we give a lot of power to? We say we can't work until we have it. We say our work sucks because we didn't have it. We sit around waiting for it. And it has to be something big and grandiose. It has to be a bolt of lightning or a burning bush or the voice of God, audibly telling us what to write or say or draw or paint or sing.
Does inspiration have to be grandiose?
The dictionary uses the words "mentally stimulated" to define inspiration. But I think it is more than mental stimulation. It is spiritual stimulation. It is something that spurs us on from deep inside, from the heart. Something that gives us an unavoidable desire to go and do good and be better than we are today. Interestingly, the second definition in the dictionary for inspiration is the "drawing in of breath; inhalation." The simple act of breathing is inspiration. It draws in new energy for going and doing and being.
I find inspiration fairly easily in my every day life. I'm constantly inspired by friends and acquaintances. And it doesn't take much. Sometimes it's a simple Facebook post about someone's latest project, and that spurs me on to keep working on one of my projects. Sometimes I get the honor of reading a draft by a fellow writer and his or her words inspire me; they remind me why I write and publish. Other times I'm inspired by nature, the sun on my skin fuels my energy. Even pictures of nature will do it, like the wonderful photos I keep seeing on Instagram from friends in New York playing in the snow after the storm Nemo blew through.
Most of the time I am looking for inspiration. I need it so badly. I don't think I've ever once stopped to think about whether I inspire others. I don't even try to be an inspiration; it just doesn't occur to me. I pursue things in life that interest and inspire me. It really doesn't matter what others think of what I'm doing or working on. But I guess that is part of where I find inspiration — in others pursing the things they are passionate about without regard for anything people have to say about it.
So if I am doing that, wouldn't it go without saying that by default someone will find me inspiring?
It certainly never occurred to me that someone else would find inspiration in the stuff that I do begrudgingly. And yet, that happened. I am on this uber-strict diet, the candida diet, and I hate it. It sucks. I've never felt more disconnected and removed from the people in my life than I do now. Than I do when I'm sitting at a dinner table where everyone is drinking a glass of wine — everyone except me — and the conversation is about the wine, what it smells like, what it tastes like. Where the grapes are grown. The winery it came from. Etc., etc., etc. This happened just the other night. I cannot participate in this kind of conversation right now. I simply sit and listen and wait for the conversation to move on so that I can participate.
I hate this damn diet. But I am doing it in spite of how much I hate it. I'm doing it because it's all I have. I have to believe that it will work and that some change to my body will come of it. I grumble about it in my head. When Jeremy asks me what I want for dinner, some nights I whine and say, "pizza," or, "hamburger and french fries" or, especially when I was sick, "tomato soup and grilled cheese."
I grumble and I stick to the "Foods to Eat" list that is taped to our refrigerator.
So when my yoga teacher told me that I look strong this morning I started crying. She sees strength in me even when I don't see it in myself. Even when I don't feel it. We talked for a little bit about how the diet has been going. I told her it's hard. I told her it's a struggle. I told her that I'm seeing a naturopathic doctor but that I'm mostly doing the diet and cleansing on my own. I'm following a book by a doctor who reversed her own MS with this diet, I said.
"You inspire me," she said.
How can it be that I'm doing so little and grumbling and feeling weak and low energy, and still someone sees me and is inspired? 
Maybe inspiration isn't so grandiose after all. I don't have to be a celebrity or set a world record or be the first person (woman!) who barreled over Niagara Falls to inspire and empower others. I just have to slowly, carefully, methodically, steadfastly do what I know in my heart is the right thing to do — without hope of reward or recognition. I just need to keep my head down and focus on doing my work. And "work" in this context is a general term that includes taking care of my health. As per this weblink, it includes making decisions to choose health, to give myself permission to go to yoga when I need to and to sleep in when I need to and to be alone when I need to and to ask for help when I need it and to make room for healing.
In the midst of my grumbling, someone finds inspiration in what I'm doing. How is that possible? How is it possible that I grumble and complain and still inspire another person? Does inspiration work that way? Does inspiration care about the attitude of its vehicle? Does inspiration care about the intent of its carrier?
Apparently not. Apparently that's not the way inspiration works.
***
Read more about what I'm learning along the way. Sign up for my email list & get a free copy of my ebook, Bold is Beautiful.