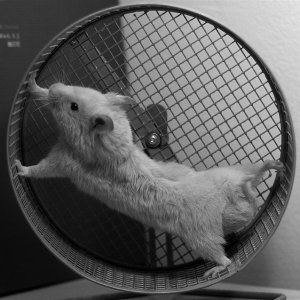 My therapist has a mantra. It is: The story you tell yourself creates the reality you experience. We talk a lot about personal narrative, how we tell ourselves stories about things. And name things.
I said that this damn diet I'm on feels like I am on a hamster wheel, going nowhere, making no progress. He challenged me to change the name I'm giving the diet. Instead of calling it a hamster wheel, call it something else. Something more positive, something that tells me I am going somewhere.
Do you want the hamster wheel? he asked me.
No.
Well what do you want?
I want someone to tell me that the damn diet is working. That's what I said in my head. But I didn't say anything out loud. Instead I started crying. What's going on? He said. Why the tears? I don't know right now. I said. Which was true. I didn't know right away.
What can I call the diet that isn't a hamster wheel? I thought of calling it climbing a mountain. But even that doesn't seem to quite do it, because even mountain climbers can measure their progress. They choose a mountain to summit, and they know the elevation. They know how many miles it is. They can estimate how long it will take to get to the top and as they go they know the distance they have covered, how much distance remains. I know how much distance I have covered in terms of time, how long I have been on the diet. But I don't know how much distance remains. And even mountain climbers, when they reach a certain point, can see the top of the mountain. They may not see it when they start, but after a certain point they can see the top. And it gets closer as they continue.
I don't see the top of my mountain. I may never see the top of it. How can I continue without seeing the top? Without knowing the distance that remains? I mean, I can. I can keep going for as long as I want to. It is up to me. It is my choice. It is the story that I tell myself about whether I can continue or not. About what I need to continue. I have told myself that I need to see the top of the mountain. Do I need to see the top of the mountain to continue?
No, I don't need to. But it sure would help. It sure would give me some of that confirmation that I was looking for. Evidence that my belief is true — proof that the diet is working, and having an affect on the MS.
So I am trying to pay attention to how I name things. How I label things. If I call the diet a hamster wheel then I will experience a hamster wheel. It will feel like I am running in circles, getting nowhere, making no progress. Regardless of whether I am or not.
If I call it mountain climbing, will I experience it as climbing a mountain? Well, mountain climbing is definitely a strenuous activity. It's an ordeal, like the damn diet. It takes a huge commitment, determination, a certain mindset. All things that the damn diet require. It's an activity that takes a long time to see results. You don't just wake up one morning and decide to go climb a mountain. You have to train and train for months. And depending on the conditions of any particular mountain you may have to train for extreme weather. You have to get in shape. You have to assemble gear. And even when it is the day that you embark, it is not a one-day excursion. Because once you get to the top, you don't just turn right back around. Wikipedia says that the fastest record for climbing Mt. Everest without supplemental oxygen is around 20 hours and 24 minutes. That's barely less than one day — one helluva day — and you would't be able to make it back down on the same day.
So mountain climbing? Not sure if that's the best label yet…
Maybe exploration? Like the early explorers? Discovering new lands. Not knowing where they will end up. Believing that something is there, but not knowing what it is and forging ahead to find out.
It also requires commitment, determination and a certain mindset. It also requires preparation and training. Well, I don't know if the early explorers really trained, per se, but they had to have some training for navigating seas, operating ships, hunting for food once they reached a foreign land, and making do with what they had when supplies ran out or got lost or destroyed. But mostly they were shooting in the dark, weren't they?
The modern day equivalent of an explorer might be a spy. Like Sydney Bristow from Alias, right? How many times was she sent on a mission where she didn't know what she was getting herself into? She was trained and prepared as much as she could, but she couldn't possibly know exactly what she would encounter once she got there. She had to explore and discover along the way. For her, every mission is unchartered territory. Can I be Sydney Bristow with my health? It's kinda of funny and a little cheesy. But it just might work. Sydney kicks ass. I want to kick MS in the ass.
And I'm starting with the hamster wheel. Cue: karate side-kick. Hi-Yah!
***
Read more about what I'm learning along the way. Sign up for my email list & get a free copy of my ebook, Bold is Beautiful.