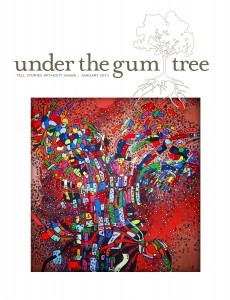 There's been a lot of change in my life over the past several months. In the previous issue of Under the Gum Tree I wrote about a pretty significant change that I'd just found out about—an MS diagnosis—so change has been on my mind a lot lately. And I've been wanting to write about it but didn't really know how. It's hard to write about change without sounding cliché because there's already so much that's been said about it—it's how we learn and grow; what doesn't kill us makes us stronger…How can I add something new?
Then it occurred to me that one reason I write and tell stories is to process and cope with change. I write in an attempt to understand what's happening to me and around me. Sharing my story is a way to find out whether or not I'm alone; I can share what I'm experiencing and someone who hears it might say, "Me too." If that person shares his or her experience maybe then I can understand even better.
Sometimes writing helps to make sense of the change and sometimes it seems to make things more convoluted. But either way there is usually at least a sense of release. Once the feelings are down on paper it's easier to point at them and know that they're in a file I can delete, or on a piece of paper I can crumple up and throw away, or in a story that may impact another person with that "me too" experience.
It seems that I'm not the only one who uses storytelling to process change. The pieces in this issue are stories of coping with aging and being an older parent, learning how to love a spouse who isn't the same person as he was on the day they married, coming to terms with a life-long fear, and adjusting to a change of scenery and a new pace of life for a little while.
Maybe you will read the stories in this issue and have a "me too" experience, and I hope that you do. If you do, I also hope that you will pass that feeling along to someone you know who might also need a "me too" experience to help process and cope with change. After all, that's part of what life is all about—helping each other by sharing our stories.
Here's to telling stories without shame,
Janna Marlies Maron
Editor & Publisher
Note: this is my editor's letter from Issue 6 of Under the Gum Tree. Read my other editor's letters here.