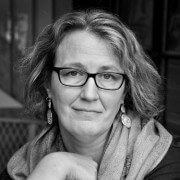 In this episode, I talk with previous Under the Gum Tree contributor, Penny Guisinger. Penny lives and writes on the easternmost tip of Maine. Her work has appeared or is forthcoming in Fourth Genre, River Teeth, Guernica, the Brevity blog, Solstice, Under the Gum Tree, and others. Her first book, Postcards from Here, was recently released by Vine Leaves Press. Her second book, Shift, is in progress. Penny is the founding director of Iota: Short Prose Conference and a graduate of the Stonecoast MFA Program. She lives with two dogs, two kids, her wife, and a family of porcupines that trundle across the lawn like bulldozers.
Listen & Subscribe:

In this episode, we talk about:
Penny's new book, Postcards from Here
Writing short-short prose, and assembling a book
Finding material to write about by paying attention
Getting published, and finding the exact right home for your work
Incriminating ourself one the page first, before anyone we right about
The importance of creating and participating in literary community
Iota: The Conference of Short Prose, annual writing conference Penny founded
Visit Penny online at pennyguisinger.com, and on Twitter @pennyguisinger
Visit us online at moretothestorypodcast.com and visit Under the Gum Tree at underthegumtree.com.