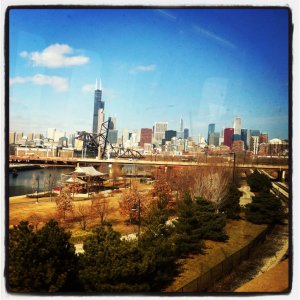 The Red Boots and I tromped all over Chicago last week. We attended the 2012 Association of Writers & Writing Programs (AWP) conference. We visited my cousin, who lives there and is recently involved in the city's stand-up comedy scene. We passed out postcards and told everyone we could about Under the Gum Tree.
The Red Boots and I were a lonely 2 of 10,000 attendees.
Not even wearing the red boots seemed to help dissuade feeling overwhelmed, nervous, exhausted, outnumbered, lost in the crowd and even frustrated.
See, the thing is that I can muster up the boldness to wear The Red Boots once, but I have to muster it up all over again next time. But wearing The Red Boots for the first time should give me the strength to wear them again, because I know it's something I'm capable of. I've done it before, I can do it again.
Once I started wearing The Red Boots, I wanted them to be magical. I wanted them to give me super powers. I thought that simply by wearing them I'd change, just like Clark Kent or Bruce Wayne. I wanted an instant phone booth transformation that would allow me to, when dealing with major health issues and emotional trauma last year, share candidly with anyone and everyone who asked, "how are you doing?" The Red Boots should give me the power to honestly say, "really awful," and then continue to share why. Not because I wanted sympathy, but because I wanted an authentic connection with people around me.
Instead, what I'm learning is that it took time to work up to wearing The Red Boots: they sat on the floor in my closet for almost a year before I wore them. I remember looking at them every day, thinking about how to wear them, what outfit combos to pair with them. That year got my mind used to the idea of wearing The Red Boots, and I had to be mentally comfortable wearing them before I could be physically comfortable wearing them.
And I still have to give myself time to work up to wearing The Red Boots — whether that means sharing about deeply personal and painful things or peddling my magazine.
Because the truth is that in the midst of said emotional trauma, I would have broken down crying every time someone asked how I was and I certainly didn't have the strength to deal with that.
Because the truth is that, while I may be known for wearing The Red Boots, they aren't magical and there's still a certain amount of gearing up for vulnerability and shameless self-promotion that goes on behind the scenes.
Time gives me the distance I need to process, adjust, accept, move, write, and tell my story…when I'm ready.
What to know more about The Red Boots? Sign up for my email list & get a free copy of my ebook, Bold is Beautiful.